IBKR Mobile for Android 2020 Release Notes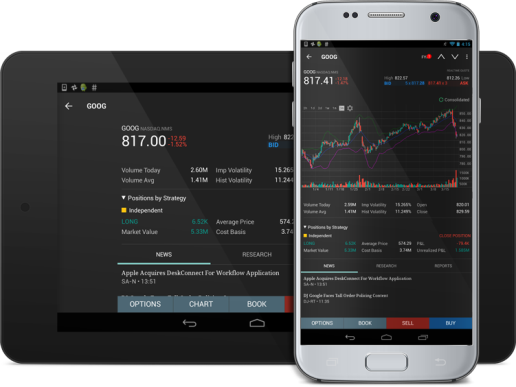 Build 8.4.212-213: Post Order Status Screen, Exit Strategy
Post Order Status Screen: When you submit an order, the Post Order Status screen appears and shows the current order status along with a set of next step action and information buttons. You can elect not to see the screen by unchecking it in Configuration.
Exit Strategy: Set up an exit strategy for an order using the Exit Strategy tool. You can define a bracket order to capture profit (Profit Taker) and help minimize loss (Stop Loss) using the Exit Strategy tool. Use one or both orders and mdify as needed. The Exit Strategy is available from the Post Order Status screen when valid, and also from Quote Details (when valid) for a current position.

Build 8.4.209: Built-In Tax Optimizer
Use the built-in Tax Optimizer in IBKR Mobile to match closing trades to different open lots to change the cost basis for a trade. Because cost basis impacts the capital gains and losses for tax reporting, changing the lots that are used for closing transactions can potentially change what you owe or can deduct at tax time. Open the Tax Optimizer from the main menu. Currently not available to Canadian or Interactive Advisors clients.

Build 8.4.170: TipRanks™ International Expansion, Simplified Order Ticket, Mobile Check Deposit
TipRanks International Expansion: TipRanks ratings have been expanded to include non-US stocks, with added coverage for over 6,700 Canadian and European companies. TipRanks evaluates recommendations by financial analysts and bloggers, and then ranks those recommendations based on historical accuracy and performance.
To view TipRanks Ratings and Sentimental Analysis, open Quote Details for a stock and expand Analyst Reports. Tap Show More, then select TipRanks Analyst Ratings or TipRanks Sentiments.
TipRanks Ratings and Sentiments are available across all of our trading platforms, including Desktop TWS, Client Portal, and IBKR Mobile for iOS.
Simplified Order Ticket: If you primarily use Limit and Market orders, you can speed up the order entry process with our new simplified order ticket. In the Order Ticket tap "Fewer Options" and we'll show you only what those fields and options you need to see. You can view hidden attributes at any time by tapping "Show More Options" at the bottom of the Order Ticket.
Mobile Check Deposit: Now you can deposit checks directly into your IBKR Account right from your phone!. From the IBKR Mobile Services menu, tap Banking to get started. Tap Deposit Check, enter the amount, then scan both sides of your endorsed check. Clients with multiple accounts will be prompted to select a specific account in the "Deposit to" drop-down box. Authentication via IBKR Mobile authentication (IB Key) is required when you submit the deposit. Once approved and processed, funds are deposited directly into your IBKR account. Use the Deposit History screen to track your deposits. Currently offered only for US clients. Only available for checks drawn on US banks.
Environmental, Social & Governance (ESG) scores on ETFs and Mutual Funds: You can now view ESG scores on Funds and ETFs from the ESG section of the Quote Details screen.