IBKR Mobile for Android 2022 Release Notes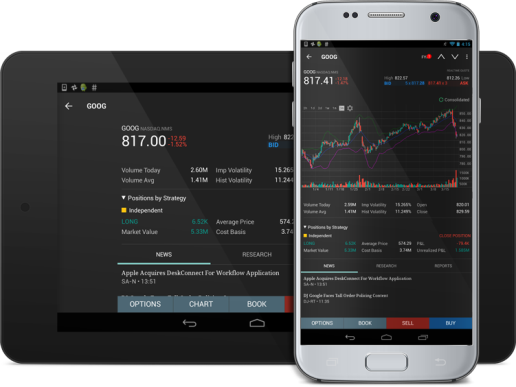 Build 8.4.587: Monitor Trades Based on Your Opinion with EventTrader
You can trade your opinion on yes/no questions in EventTrader from TWS or Client Portal. IBKR Mobile allows you to see event contracts in your portfolio. Open the EventTrader web app by tapping an event contract in your portfolio.

Up to Build 8.4.541: Info Bar, Cryptocurrencies, Trade Worldwide, Improved Events Calendar, Cycle through Portfolio Values and more
Releases from 8.4.516 to 8.4.541 offer:
The Quote Info Bar, shown just below an asset's price in the Quote Details screen, uses icons to relay relevant additional information about the asset, such as higher than usual margin requirements, no Shortable inventory, additional trading permissions, and available market data subscriptions.
Limited support for submitted orders directly to an exchange: Watchlist assets entered in desktop TWS with directed exchange can be used in IBKR Mobile.
Support for SNFE futures.
Improved Events Calendar: Stay on top of current and upcoming economic and corporate events for companies around the globe. Use filters to view only companies in your portfolio and Watchlists, limit the events display to specific types, like corporate actions, corporate events, economic events, US IPOs, Econoday events and more.
Ability to trade popular cryptocurrencies via Paxos.
The Trade Worldwide actionable news feed released to IBKR Mobile.
Now you can cycle through the far-right portfolio column to see more data points. Tap the value in the last column to the right to cycle through Last Change%/Today's P&L/Total P&L.