TWS 2023 Beta Release Notes
Morningstar Analyst Ratings Data
We've recently added Morningstar proprietary Ratings and Analyst Commentary for Funds/ETFs & Equities to Fundamentals Explorer. See an overview in the Morningstar summary tile when you open Fundamentals Explorer.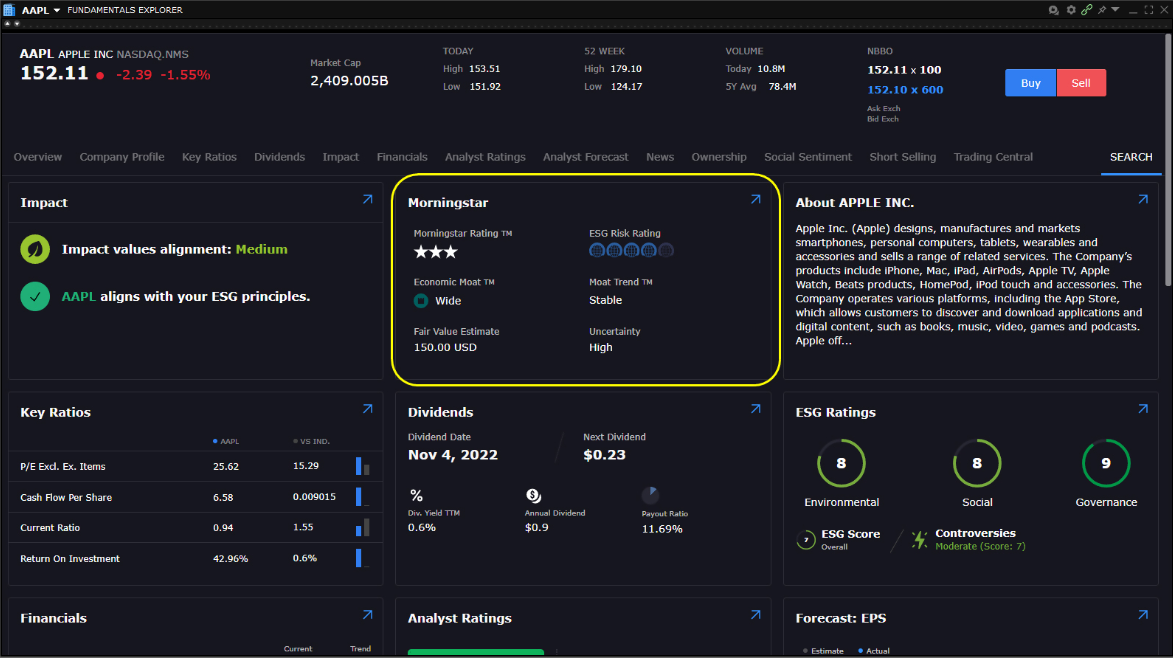 Use the arrow in the upper right corner of the summary tile to open the full Morningstar page.
Data points provided by Morningstar include both qualitative coverage which is contributed by an actual analyst, and quantitative coverage which is calculated programmatically and without the input of an actual analyst. To see this data, from the New Window dropdown select Fundamentals Explorer. The summary tile is in the center of the top row. Click the blue arrow to open the full page.
Equities data includes:
Funds data includes:
Analyst Rating: Forward-looking analyst's assessment of a fund's ability to outperform its peers or a relevant benchmark – on a risk-adjust basis – over a full market cycle.
Process: High, Above Average, Average, Below Average, Low. How managers execute their investment strategy.
People: High, Above Average, Average, Below Average, Low. Looks at the people who manage funds. Assessed on length of tenure, whether they are a qualified analyst, how relevant their investment experience is and how diligent their succession planning is.
Parent: High, Above Average, Average, Below Average, Low. The asset manager that offers the fund.
Morningstar Rating: Gold, Silver, Bronze, Neutral, Negative. For active investment products, gold, silver, and bronze reflects the Manager Research Group's expectation that an active investment product will be able to deliver positive alpha net of fees relative to the standard benchmark index assigned to the Morningstar category. For passive products, these same categories e reflects the Manager Research Group's expectation that an investment product will be able to deliver a higher alpha net of fees than the lesser of the relevant Morningstar category median or 0.
Sustainability Rating: Provided by Sustainalytics, a Morningstar company. Low (1), Below Average (2), Average (3), Above Average (4), High (5). Gives a snapshot assessment of how well ESG risk is managed at a fund level, relative to its peer group.
Category: Differentiates funds according to investment approach/objectives and principal investment features. Breaks portfolios into peer groups based on their holdings.
Category Index:
For more details, select a data point from the list in the bottom left side of the page, and read details in the right panel. Download the PDF Full Report at the bottom of the data list to see additional commentary, charts and graphs, and term definitions.
---
New Advanced Charts
Advanced Charts offer a robust charting system with sophisticated but easy-to-use drawing and annotation tools, customizable trendlines, and unique studies and indicators. Use Advanced Charts as a standalone window, or make TradingView the default chart type in your Mosaic layout.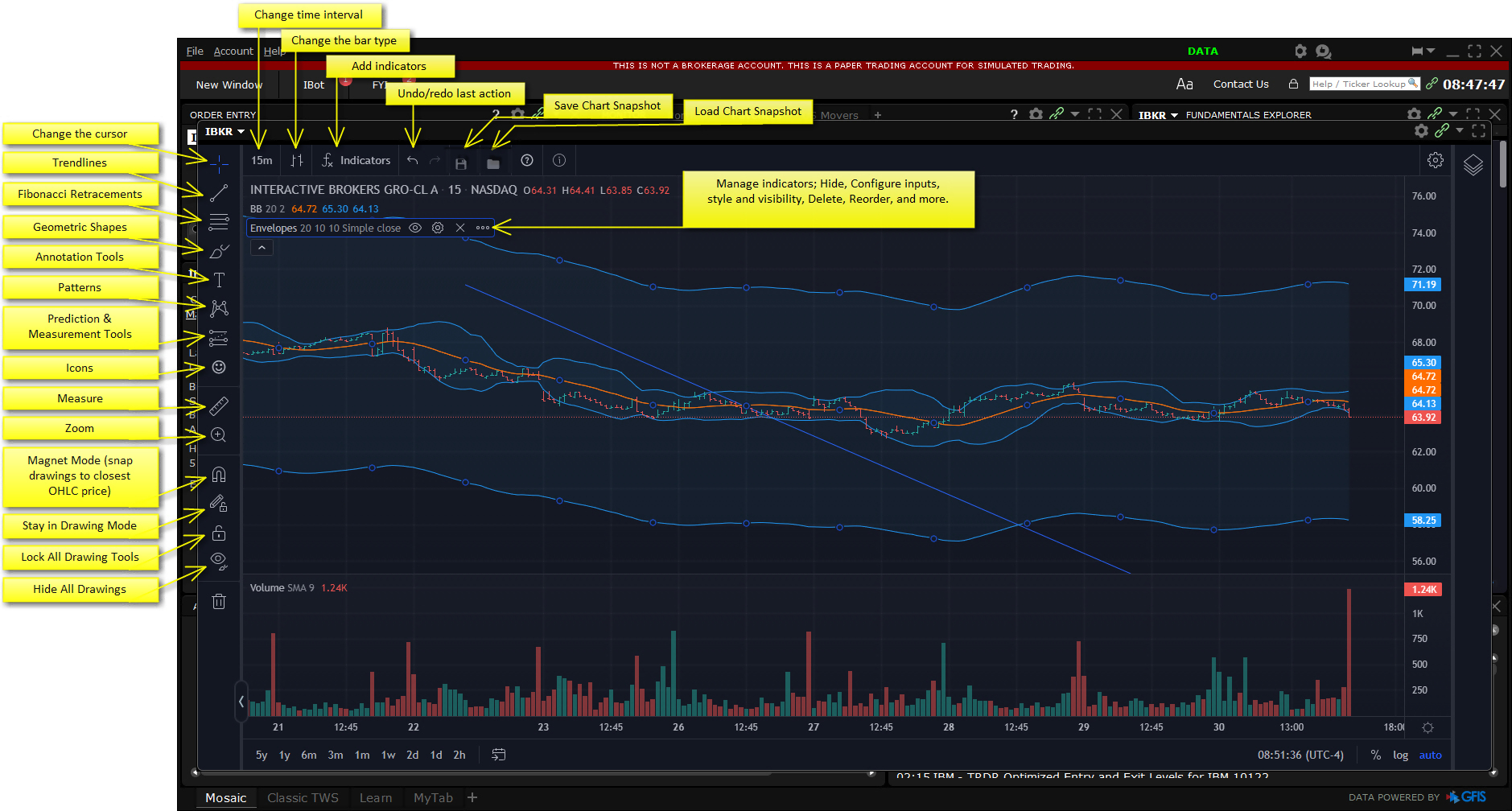 Use the snapshot feature to save a version of your chart with specific trendlines, indicators and more.

To view multiple charts using the same underlying but different time periods and studies, create a new layout, add multiple Advanced Chart windows, and turn off windows grouping. Now add the underlying and other content to each chart. To open Advanced Charts, from the New Window dropdown select Chart and then Advanced Charts.
COMING SOON: The ability to create orders from within a chart.